News & Updates
Check out the latest wellness activities of physicians, departments, and the health system at large!
Physician Wellness Leads Mandatory Training Reduction Initiatives
November 2023
Physician Wellness is leading the Mandatory Training Reduction Initiative to enhance well-being for UCSD Health physicians. This initiative, aligned with the principles of the National Academy of Medicine's National Plan, is designed to prioritize the welfare of our physicians, address mental health concerns, and mitigate administrative barriers that impact daily work.
Regular updates on the progress and outcomes of the mandatory training reduction initiative will be announced. To provide clarity and transparency, we have compiled a comprehensive Frequently Asked Questions (FAQ) guide addressing key aspects of this initiative. Please view to learn more. 
Rady Children's Hospital Joins UC San Diego Health In Building Physician Wellness Infrastructure
November 2023
Rady Children's Hospital has joined UC San Diego Health's Physician Wellness Program as a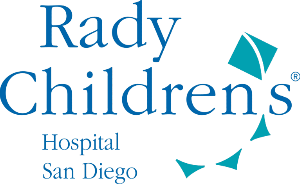 contributing member with funding and representation on UCSD's Wellness Oversight Committee. 80% of Rady Children's physicians are UCSD Health Faculty – as part of the joint venture between the institutions – constituting most of UCSD's Department of Pediatrics. UCSD Health and Rady Children's leadership agree that representation of this group is essential for supporting physician wellness for these 240+ San Diego physicians.
Robin Steinhorn, MD, the Senior VP and Executive Director of Rady Children's Specialists of San Diego and Dean of Clinical Services for UCSD School of Medicine, now represents Rady Children's Hospital on UC San Diego Health's Wellness Oversight Committee.
Learn more about the Wellness Oversight Committee.
New Name, Same Benefit: Ginger Mental Health Rebranded to Headspace Care on October 31, 2023
October 2023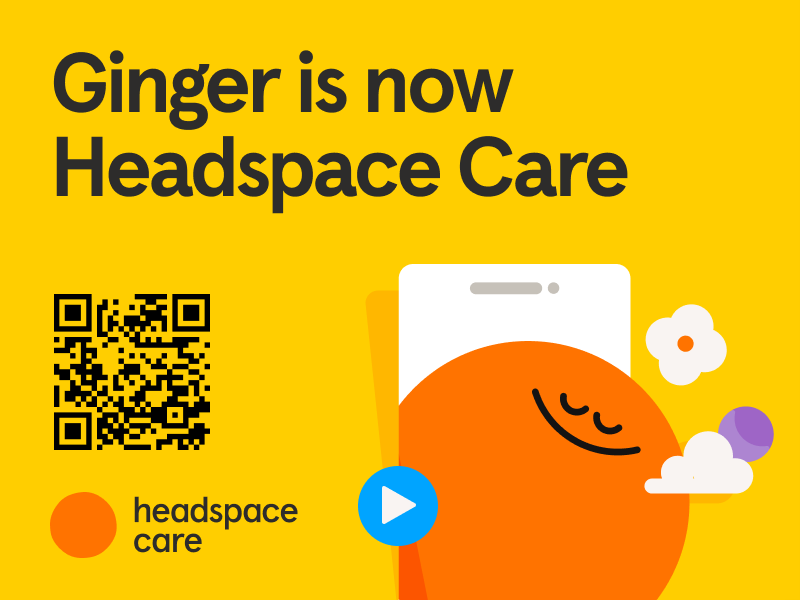 Ginger is now Headspace Care!
UCSD Physician Wellness is pleased to continue offering this mental health care benefit for our clinically active physicians, GME physicians, and dependents (18+).
Scan the QR code in the photo to get started!
Frequently Asked Questions:
I was a Ginger user before. Do I need to do anything?
No, as of October 31, 2023, all Ginger apps automatically updated to the new Headspace Care app. All services are the same.
Is Headspace Care the same as Headspace?
Headspace Care is a separate product than Headspace, although now part of the same company. Headspace Care offers mental health care services, whereas Headspace offers mindfulness and meditation resources.
Visit our FAQ site for more troubleshooting tips and more information about Headspace Care at UCSD Health.
For questions and troubleshooting, please contact physicianwellnessadmin@health.ucsd.edu
UC San Diego Health and Sanford Institute for Empathy and Compassion Lead The Way at ACPH 2023
October 2023
UCSD Health and Sanford Institute for Empathy and Compassion had a significant presence at the 2023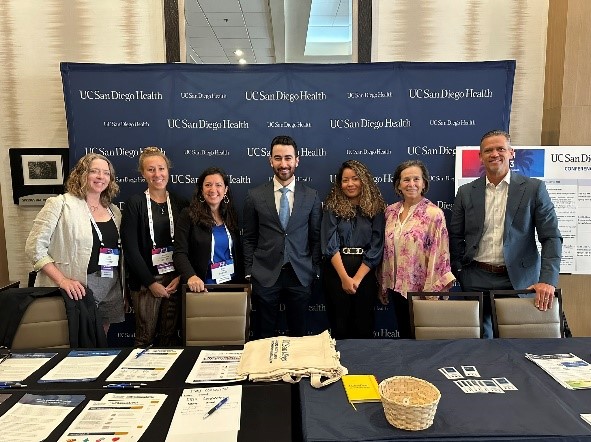 American Conference on Physician Health (ACPH) with 16 posters and presentations on various research topics advancing physician wellness. 
The ACPH is a joint scientific conference sponsored by the American Medical Association, Stanford Medicine, and Mayo Clinic that promotes research and discourse on actionable steps organizations can take to improve physician well-being. This conference brought together clinical and administrative leaders, wellness researchers, and technical subject matter experts to address the pressing issue of physician well-being.
After receiving great feedback from our UCSD attendees, the Physician Wellness Office looks forward to continuing to represent UCSD Health in future ACPH meetings.
Explore the ACPH posters and presentations by UC San Diego researchers.
Learn more about the American Conference on Physician Health.
UCSD Health Launches Physician Peer Support Program
October 2023

The Physician Wellness Office is pleased to announce the launch of the WE CARE Physician Peer Support Program, designed to break the stigma surrounding seeking help in the medical community. Over 20 physicians have completed training and volunteered their time to provide peer support in this important work. This peer support system offers a safe space for physicians to share experiences, seek guidance, and access emotional support from their physician peer supporters.
Key Features of the Program
Confidentiality: The program places a strong emphasis on maintaining strict confidentiality, ensuring that physicians can freely discuss their concerns without fear of judgment or repercussions.
Diverse Support Network: Physician peer supporters come from various medical specialties, ensuring that physicians can connect with individuals who share their professional experiences.
Training and Resources: Physician peer supporters are equipped with the necessary training and resources to provide meaningful assistance and guidance.
Virtual Accessibility: In recognition of the demanding schedules of medical professionals, the program offers virtual support, making it convenient and accessible.
The launch of UCSD Health's Physician Peer Support Program marks a significant step toward fostering a healthier, more resilient medical community. It is a shining example of how healthcare institutions can address physician burnout and ensure the well-being of those who dedicate their lives to healing others.
The WE CARE Physician Peer Support program plans to expand its services to the GME physicians in the near future.
For more information, please visit the Peer Support page.
For any additional questions, please email: docpeersupport@health.ucsd.edu
Congratulations to October Physician Professionalism Awardee - Dr. Daniel Lee
October 2023
Dr. Daniel Lee, UCSD internal medicine physician and HIV specialist, was awarded the October Physician Professionalism Award for his efforts in fostering a strong wellness culture and creating an environment where team members feel cared for.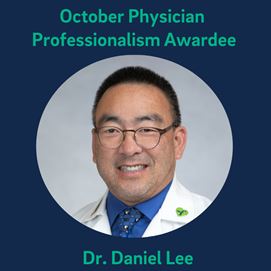 "Dr. Lee has volunteered a significant amount of his time to encourage wellness through meditation for staff by leading lunchtime groups and other outside opportunities. He asks about the practices of each participant and shares his wisdom and experience in a very nurturing environment." - Dr. Robert Deiss. 
The Physician Professionalism Award is presented by the Chief of Staff and Medical Professionalism Committee to recognize phyysicians who honor core values of quality, care, integrity, respectfulness, and teamwork while promoting a culture of safety. 
Nominations are collected every month to celebrate and recognize your UCSD Health physician colleagues. 
Group Registration Rate Available for the American Conference on Physician Health - UC San Diego Leads the Way in Physician Wellness Research
July 2023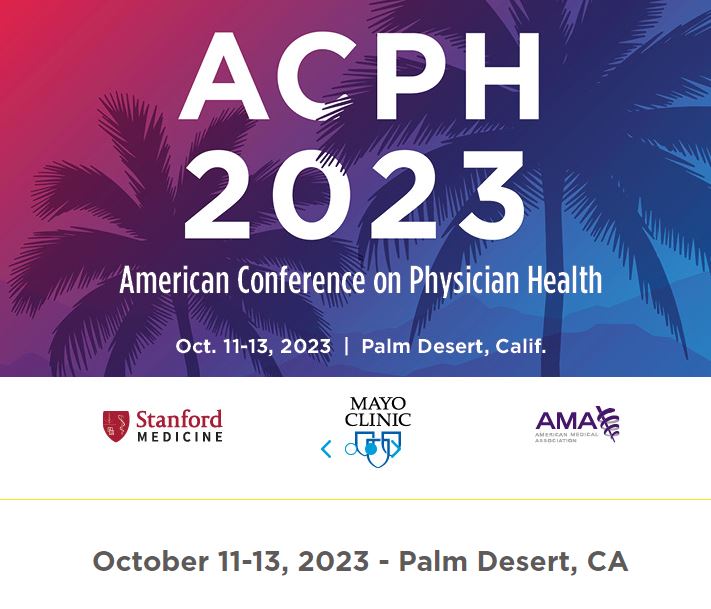 UC San Diego is making waves in the academic community for physician wellness. The American Conference on Physician Health will include presentations of work from 16 abstracts from UCSD physicians and researchers showcasing a range of topics, from burnout prevention strategies to improving patient outcomes through physician wellness initiatives. This recognition is a testament to UC San Diego's commitment to advancing the culture of physician wellness. 
 View the UCSD-specific agenda for ACPH:  UCSD-ACPH Agenda
Group Registration
We have a group registration rate of $605 for UCSD attendees.  UCSD attendees are responsible for their fees and travel expenses.  Please contact physicianwellnessadm@health.ucsd.edu if you plan to attend, so we can include you in our group rate and provide the registration code you will need. 
About the American Conference on Physician Health
The ACPH will be held October 11-13, 2023 in Palm Desert, CA at the JW Marriott Desert Springs Resort & Spa.
ACPH is designed to inspire organizations to seek ways to bring back the joy in medicine and achieve professional fulfillment for physicians.
Through provocative keynote presentations, practical panel discussions, concurrent oral abstracts, and poster presentations of more than 70 different national wellness projects and programs, this three-day conference promises an exciting format featuring progressive practitioners and noted researchers. ACPH provides an engaging forum to share innovative methods and discuss tangible strategies and tools so that structuring organizations (i.e., hospitals, health systems, practices, clinics) contribute to, rather than detract from, physician wellness. The conference will showcase research into the infrastructure of the health care system and highlight what organizations can do to help combat burnout and promote wellness.
Learn more about ACPH: https://www.physician-wellbeing-conference.org/ 
Ginger Mental Health: Now Available for Clinically Active UCSD Health Physicians and Eligible Dependents (18+)
May 2023
Mental health support right from your phone.
Ginger—a new benefit to support emotional and mental health – is now available for all clinically active UCSD Health physicians. Currently, all GME physicians can access Ginger. Soon, an email from Ginger will arrive in your UCSD health inbox with app download instructions. Beginning on May 4, adult dependents (age 18+) can also download the app and access Ginger once they "Sign up as a dependent". Ginger is available in Spanish.
What is Ginger?
The Ginger app offers confidential, on-demand emotional and mental health support through the privacy of your smartphone. Behavioral coaching is available 24/7, 365 days per year - including outside of business hours on evenings and weekends.  After an initial visit with a Ginger behavioral coach, you may request private video-based therapy and psychiatry care. 
Your Privacy
Ginger shares absolutely no identifiable member data with UC San Diego or an individual's healthcare provider. UCSD will not have access to the list of participants or the conversations between you and your care team. Your information is securely stored and protected as described in our Privacy Statement and Terms of Service.
For questions and troubleshooting, please contact physicianwellnessadmin@health.ucsd.edu
UCSD Physician Wellness Joins Pilot Cohort in National Academy of Medicine Change Maker Campaign
March 2023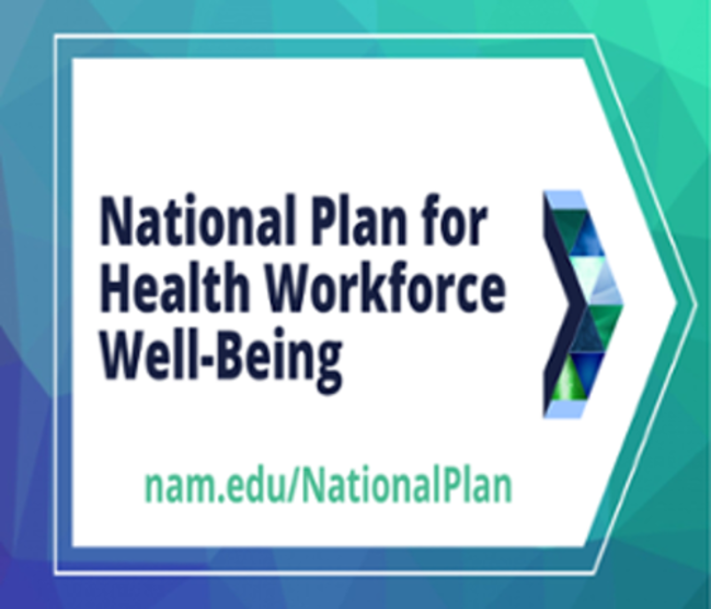 The National Academy of Medicine (NAM) launched the Action Collaborative on Clinician Well-Being and Resilience (Clinician Well-Being Collaborative) in 2017 in response to the national clinician burnout crisis, which intensified due to the COVID-19 pandemic. In 2022, the Clinician Well-Being Collaborative released the National Plan for Health Workforce Well-Being, which provided actionable steps toward cultivating a health system that supports care providers.
The UCSD Physician Wellness Office is pleased to take part in NAM's next initiative, the Change Maker Campaign, which aims to implement the National Plan's vision across the nation to support health care clinicians and their patients. 
The National Plan for Health Workforce Well-Being was released in 2022 to drive collective action to strengthen health workforce well-being and restore the health of the nation. The National Plan highlights several priority areas for improving well-being:
Create and sustain positive work and learning environments and culture
Invest in measurement, assessment, strategies, and research
Support mental health and reduce stigma
Address compliance, regulatory, and policy barriers for daily work
Engage effective technology tools
Institutionalize well-being as a long-term value
Recruit and retain a diverse and inclusive health workforce
Learn more about the National Plan at nam.edu/NationalPlan.
Physician Wellness Office welcomes Audrey Hilliard in Executive Assistant role
February 2023

The Physician Wellness Office is thrilled to welcome Audrey Hilliard in the Executive Assistant role. Audrey has previously worked in other departments such as the Department of Psychiatry and Department of Radiology. More recently, she was an Administrative Support Coordinator at San Diego State University. Audrey holds her Bachelor of Arts in Rhetoric and Writing Studies and is currently working on her Masters in Digital Audience Strategy. She will be leading correspondence for the Physician Wellness Program, including communicating with cross-functional stakeholders and senior executives, and will also be supporting UCSD's Physician Board of Governors. 
UCSD leading healthcare worker wellness research with wearable-enabled digital health study
January 2023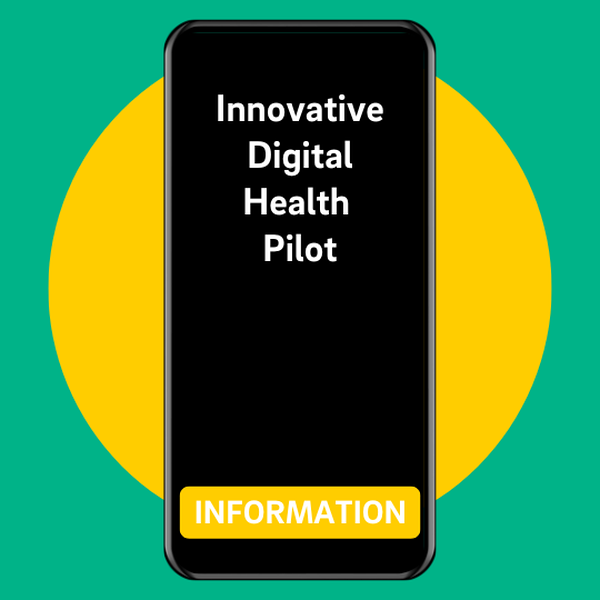 UC San Diego Health is launching an innovative digital health pilot that leverages consumer wearables and smartphones to support participants with personalized insights into their health. 
Project Shield will engage approximately 300 frontline health care workers over three months. Volunteer participants will provide daily input (1-2 minutes) via an iPhone app, fill out brief monthly surveys and join a focus group session to gather user feedback.
Participating will help you privately understand and positively impact your health and wellness via personalized insights and wellness tips.
Julie
Ç

elebi, MD, recognized by AAFP as national leader in physician well-being

December 2022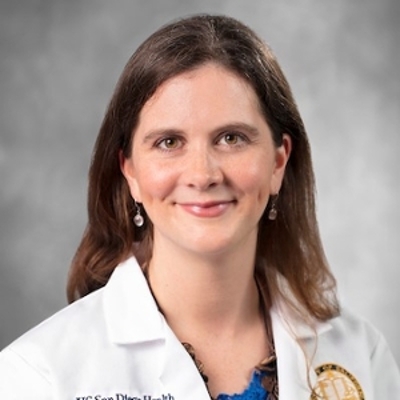 Julie Çelebi, MD, has been awarded two distinctions as a national leader in physician well-being in Family Medicine from the American Academy of Family Physicians (AAFP).
Dr. Çelebi was recently selected as one of six national Well-Being Educators for the AAFP's Physician Health First Initiative from a competitive applicant pool.
Dr. Çelebi has also recently completed a year-long certificate program from the American Academy of Family Physicians (AAFP) called "Leading Physician Well-being" (LPW). Dr. Çelebi was one of 120 physicians selected from a national pool to participate in this program, which was created to provide leadership development, training in physician well-being advocacy, and performance improvement project skill-building. She developed a project called "Physician Only Discussion (POD) Groups: Identifying Needs, Finding Solutions, and Optimizing Wellness" and presented this to her peers in a final Project Showcase in November. AAFP LPW Scholars completing this certificate are felt to be well-positioned to fill leadership roles within health care systems where they can create value around physician well-being which honors the doctor-patient relationship. This leads to a more productive and engaged physician workforce and a better-served, and therefore healthier, patient population.
Meet Dr. Çelebi and the Department Wellness Directors
Department of Medicine Drives Forward on Wellness Plan

December 2022
The Department of Medicine is one year into its Physician Wellness transformation, having made significant progress in a number of focus areas raised by the department's physicians.
Meet the Department Wellness Directors for the Department of Medicine!